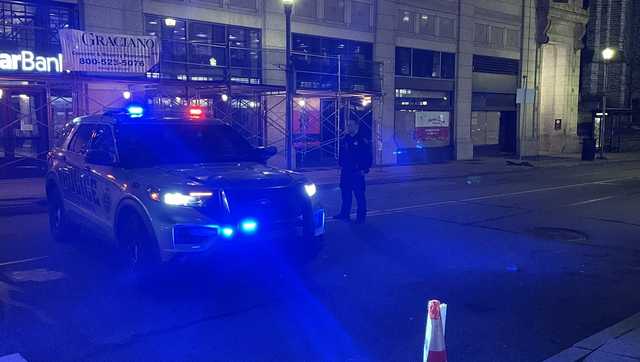 Police were involved in the area around Sixth Avenue and Coffey Way.

PITTSBURGH —

Two people were taken into custody and a police officer was injured in a pair of violence incidents in Downtown Pittsburgh on Tuesday evening.

Around 7:20 p.m., police were called for a fight that broke out at the Five Guys Burgers and Fries at Market Square.

A police officer suffered a hand injury after trying to break up the fight. The officer was taken to the hospital for treatment.

One minor was arrested on scene for assaulting the officer, Pittsburgh Public Safety said in a news release.

Police said when officers arrived at that scene several men ran off, including Jasyean Randall, 18, of Pittsburgh.

According to court paperwork, a plain clothes officer later heard Randall and others talking about beating up a cop.

The officer who heard that statement, as well as uniformed police, confronted the group.
Source: Two people arrested after fight, shooting in Downtown Pittsburgh